July 25th, 2023 at 01:22 pm
Just when I thought I could take a breather from the work projects around the house.....I ran out of water last night. A very small volume of water coming out the tap and then, nothing. I tried the other faucets, same thing. No water, no pressure.
I went into the basement to look at the water pipe coming into the basement. I see a small wet spot directly under the meter. Something's leaking, which I guess messed up the water pressure?
I had a sink full of dirty dishes. Great. About 15 minutes later, I tried the kitchen faucet again, just to see, and this time I had water, spitting and spluttering. But it was enough to do the dishes.
I called the water company this morning and they are sending someone out this morning. Thank goodness that no water is considered an emergency situation. The woman on the phone agreed that it sounded like the meter needs replacing and said they usually contact the customer once it becomes 14 years old. I hooked up to the water company water line in 2013, so that's 10 years already.
Mysteriously, I have seemingly normal water this morning, and when i went downstairs to look at the water meter, there was NO water in the bucket I'd put under the meter and the small wet spot under the bucket had completely dried. Maybe it has some sort of early warning system, like a hot water heater that starts out with a slow leak when it begins to go??
My father will be disappointed as we had plans to see an Oppenheimer matinee today, but we can reschedule for Thursday.
In other news, my neighbor friend and I traveled about an hour-and-a-half to South Deerfield, Massachusetts, to check out the Magic Wings Butterfly Conservatory. They have some rooms with lots of terrariums filled with giant cockroaches, insects and reptiles to enthrall the kids, plus a gift shop where you can buy milkweed seeds and all things butterfly-related. The conservatory itself is a fairly small, enclosed space but is chock full of lush, tropical plants and plenty of butterflies flitting about so it was no problem getting close up views.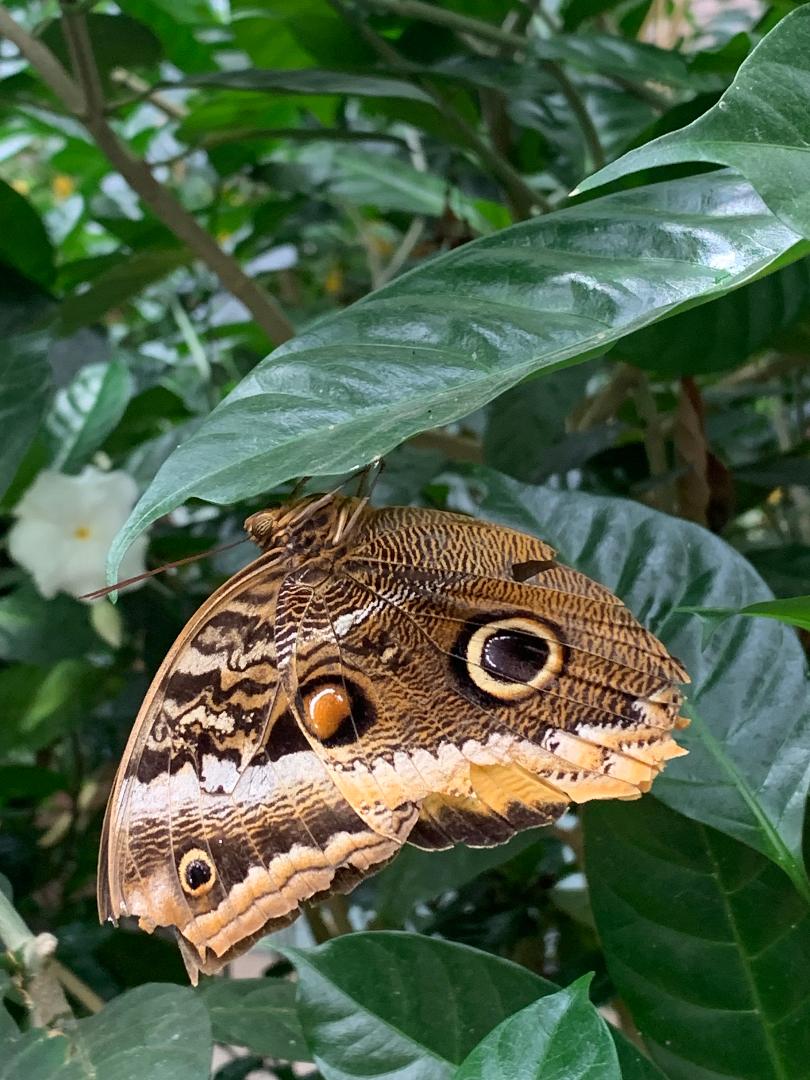 On the way back, we stopped at a greasy diner, seemingly the only place to eat within a few miles, and an antique/collectible place run by a pleasant elderly couple who no doubt were trying to supplement their Social Security income.
The next day, we did another road trip to the Chuang Yen Monastery in Carmel, New York. I've been there probably 4 times in the past 30 years, but I always wanted to try their vegetarian lunch, which we did. It was a bargain at $7: white rice and mixed veggies, bean curd. I think it was all you can eat. Their claim to fame is they purportedly have the largest indoor Buddha in the Northern Hemisphere.
Update: Water company guy showed up here in under an hour. Took him 5 minutes to replace the meter, so hopefully I'm all set for another 14 years.
I always like to chat with contractors who come here to try to learn something. He asked me if I'd heard any fire sirens last night, and I said no. He said a fire in town could actually pull enough water from the hydrant to cause me to lose pressure. He agreed it seemed wierd that I lost water last night, but have it this morning. And he said I hadn't needed to wait til this morning to call them, that I can call them 24/7.
We're off to see the 1st Oppenheimer matinee.